If you're a fan of the 80's classic Blade Runner movie, then you'll love Stonemason's Urban Future 5 3D model for DAZ Studio . Stonemason is one of the best 3D modelers in the DAZ 3D marketplace, and with Urban Future 5, he's taken his Urban Future series one step further. Unlike the previous sets in the series, this one has a more classic Blade Runner feel to it, as well as some parts of the set that look more abandoned, "old" and decayed.
This is a huge set and it has lots of details, shops, corners, bars and more modern areas too. The geometry looks good, but where it truly shines is Stonemason's specialty: textures. What I dislike about this prop, is that the built-in DAZ Studio Iray lights don't look any good. In fact, they make the prop look worse than it is. Some areas of the prop have emission effects, that is, they glow and create lighting effects, but it's just inconsistent and not strong enough. The set does not look as in the excellent promo renders, which are probably rendered in 3D Studio Max.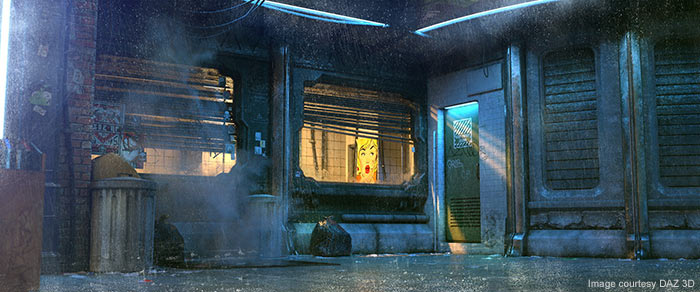 Having that said, it's an excellent set, just it needs some work as far as lighting goes, to achieve similar renders as in the promo images. Urban Future 5 comes without camera presets, but the model loads into DAZ Studio in parented smaller parts which can be moved or removed individually for adjustments and customization.
Get the prop over at DAZ by clicking HERE.
Keep tweaking!
/Val