This set sure looks amazing upon first glance! It immediately brought my attention, and Aako is quickly becoming one of my favorite DAZ 3D published artists. But it comes with two major cons, one of which is close to being a real deal breaker.
I first tested this on my 4Gb RAM laptop with an RTX 2060 graphics card and then switched over to my 64Gb RAM PC with 2 x RTX 2080 ti graphics cards.
To be honest, it looks breathtaking and renders quite quickly, even on the laptop. On the big PC it renders in seconds, especially with the RTX only feature "De-Noiser" turned on.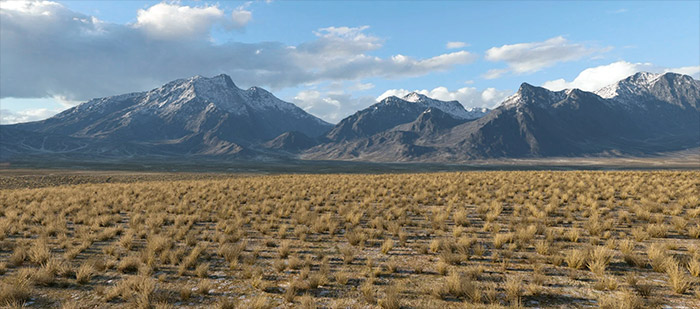 It has a stunning distant mountain range that is a real prop and responds to lighting. The center area is HUGE and offers a plain ground with grass patches. It comes with two 12k HDRI maps that look spectacular with beautiful lighting and clouds. Also included are several icons for rotating the HDRI maps. Plus you have an extra icon for adding more grass.
The visuals and options are SUPERB, really top notch.
But unfortunately, the set is super HEAVY. It completely drains the system, moving the camera or making an adjustment takes up to 5-30 sec, even on my big PC.
The preview windows is super laggy, stutters several seconds before showing any sign of life and becomes unresponsive now and then.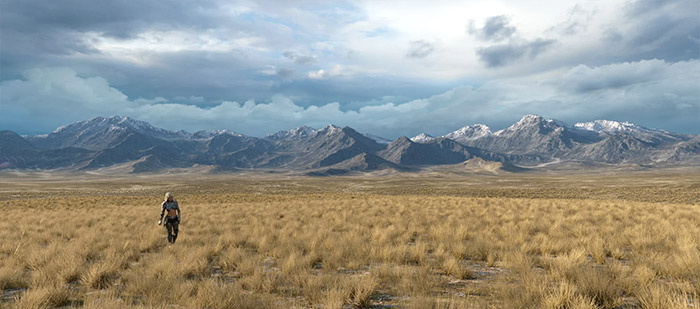 Even in wireframe mode it's very difficult to work with the set. Another draw back is the visible edge between the "real" grass and the background with has smaller patches of grass in it. At low altitude, moving the camera low on the ground, you can clearly see this edge and I'd love that area to be a smooth transition rather than a "hard cut".
So, all in all, I love this set, it looks amazing, renders quickly, but it's very difficult to work with because it's poorly optimized for preview / design, which is where we spend most of our time.
You can view this set in the DAZ 3D store HERE.
Alright, that's it for today! Thanks for reading! I highly appreciate when you share blog posts with your friends so that more can benefit from the content.
Keep tweaking,
Val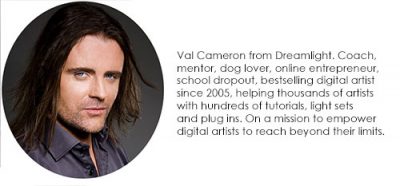 P.S. Check out this set in the DAZ 3D store HERE.
P.S.S. Did you know? DAZ Studio native content can be exported fully rigged to Blender, Cinema 4D, 3DS Max, Maya, Unity and Unreal using the free DAZ bridges. Read more about DAZ bridges HERE.
Images courtesy DAZ 3D