Fashion Editorial Poses and Expressions for Genesis 8 Female – DAZ Studio – Review
There's a lot of posing packages out there. Some are better than others, some are even of very low quality. When looking at posing packages, you want to make sure they have a natural fluid motion applied to them, so that it feels like a real human body and not just as robotic limbs. There should be a sense of weight, and especially when it comes to female poses, hands, fingers, and feet should bend the extra mile to look more feminine.
I was really surprised by how much attention went into the creation of this package. It comes with 120 poses, and 30 expressions for DAZ's Genesis 8 Females. And boy does it deliver. However, I was a little bit disappointed by the expressions, and specifically the lack of flirtatious ones, which would really accompany this package. Instead, there are expressions such as surprise, anger, and fear, which I find a little awkward. A few generic ones are there that suit the poses, but overall, most of the expressions don't match the poses.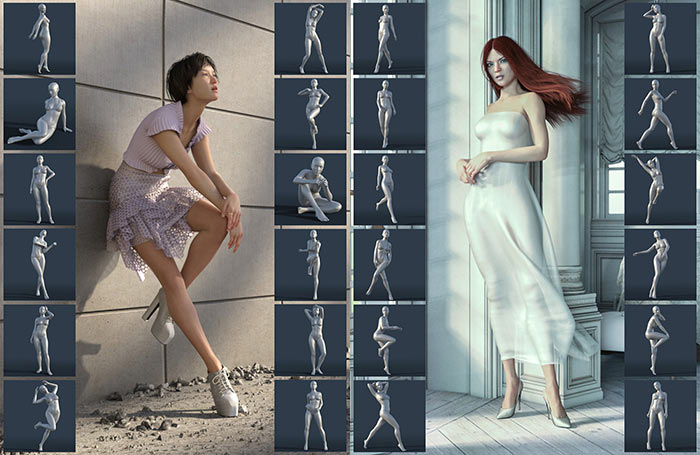 In the video, I take this set for a spin, and also show you a few valuable strategies for coping with some of the shortcomings of such packages.
I highly recommend this set of poses and expressions, it's by far one of the best ones out there.
Check this package out at DAZ HERE.
As always, thanks for watching, feel free to make a comment if you like the video and share with your friends.
See you there!
-Val
P.S. Check this package out at DAZ HERE.