Most modern 3rd person and 1st person games offer some kind of photo mode where you can pause the game and take a screenshot without all the menus and text.
In today's video, I'll show you how to take a screenshot right inside Cyberpunk 2077 on a PC (You can do this on a Playstation or Xbox too) and then blend it with a 3D character inside the free DAZ Studio:
With a little help from Photoshop you can further add some cool fog and lens flare effects and finalize the look and feel. I'm also showcasing how to blur the 3D character to match the somewhat softer in-game screenshot using masks created in DAZ Studio.

This approach gives you an endless stream of backgrounds with unlimited light effects to choose from. This can be used to blend 3D characters, vehicles or mixed with characters from any game as well.

That's pretty much it for today… Comment below what your biggest take is from the video, I'd love to hear from you!
If you want to master DAZ Studio 3D Art, then check out our $1 trial HERE, and get access to over 600+ videos, HDRI maps, props and lights…

Don't have DAZ Studio yet? It's FREE from DAZ 3D HERE.

Have fun with your 3D art and keep tweaking!
/Val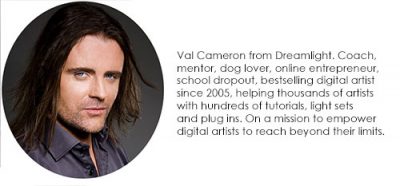 P.S. If you want to master DAZ Studio 3D Art, then check out our $1 trial HERE, and get access to over 600+ videos, HDRI maps, props and lights…