So, the 3 point light set up originated from Studio Portrait Photography. Including 3 lights, the Key Light, Filler and Back Light, it provides enough lighting and tricks for most of your portrait renders. However, problems may start to occur during specific scenarios. In today's video I'm going to show you what that looks like, and also how to fix it using my own invention:
Lighting is 90% of your art, and if you want to master DAZ Studio 3D Art, then lighting is one of the most important aspects to master early on. For this reason, I'm including my own 3D Light Club training program completely for free as an additional bonus when you join the new Super 3D Art Quick Start Program today… That and 1,000+ other videos!
Read more about it HERE and grab your $1 trial to get going today! (It also includes the Photo Studio PRO, with studio props, lights, 30 filters and a 27 min video tutorial).
That's it, thanks for watching and I hope you got an aha moment from today's video!
Keep tweaking,
Val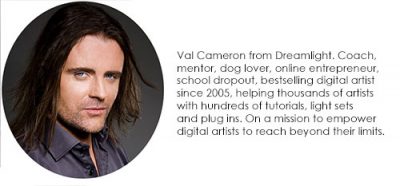 P.S. Master DAZ Studio 3D Art. Grab your $1 trial and going today! Plus see how you can get additional access to 1,000+ videos! Read more HERE.
FREE: Get your own Photo Studio for DAZ Studio, with studio props, lights, a filter + 27 min video tutorial, while it's still free HERE.