Tropical Lagoon – DAZ Studio 3D Model – Review
This beautiful scenery for DAZ Studio Iray by Andrey Pestryakov just oozes sun, water, and palm trees. The Tropical Lagoon looks absolutely amazing, but how does it perform?
You get plenty of camera angles to choose from, and each of the camera prests has its own light preset. Gotta love that. However, they load without the skydome turned on, so each time you select a new light presets, you need to go into the render settings and turn it on. Pretty weird thing…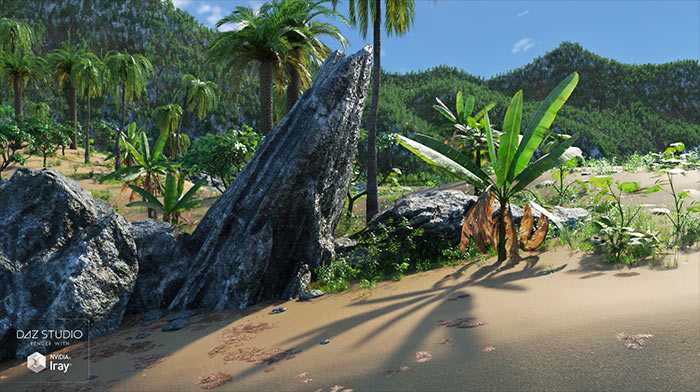 The set comes with a low rez version without distant palm trees, a more detailed version with distant palm trees and a high-resolution sand centerpiece. It's a little unclear what exactly all the icons do, but it loads pretty fast and renders quite fast too on an Nvidia GTX 1080. However, when you load everything at max setting, you get quite a severe scene lag that makes it quite difficult to work with the scene.
Especially when you add additional characters or models to your scene, you're better off using a high-end PC with a high-end Nvidia graphics card such as the GTX 1080ti or higher.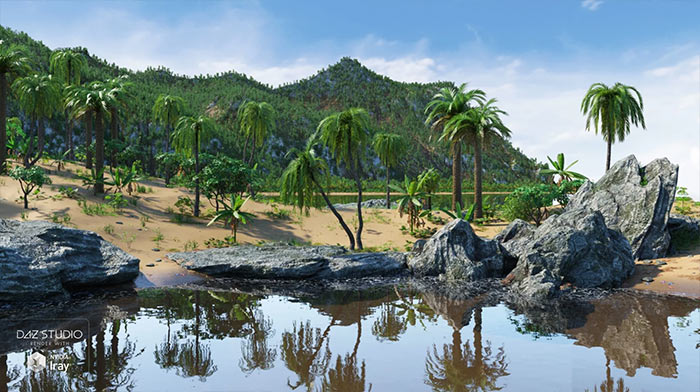 The scenery works perfectly at close range too, with outstanding texture and geometry details. Overall, a very impressive package, that requires a high-end PC to shine from its best angles. Of course, you can still use the low rez version, with or without distant palm trees, but that kind of takes away all the beauty from this gorgeous scenery.
Take a look at Tropical Lagoon at DAZ HERE.
Thanks for watching! Comment below and share with your friends if you like the video.
Keep tweaking!
-Val
PS. Take a look at Tropical Lagoon at DAZ HERE.