Ultra HD IRAY HDRI With DOF – Sunny Beaches Pack 2 – DAZ Studio – Review
Bob Callawah and Cake One are spitting out one cool Iray HDRI pack for DAZ Studio after another. The "Ultra HD IRAY HDRI With DOF – Sunny Beaches Pack 2" is a beautiful Spanish Riviera setting caught my attention, so I decided to shoot a quick video review. This package offers 6 different maps, all at the same location, but with different camera positions and light conditions. Each map has 4 size options, 2k, 4k, 8k, and 16k. The latter is a little bit of an overkill,  which you'll only need when rendering really big images. 8k is more than enough to create great high-resolution images.
Now, what makes this package so cool, is that this duo actually not only gives you the standard HDRI maps but also "special DOF enabled" versions. If you've been using normal Iray HDRI maps in the past, maybe you've already run into the DOF issue. That is, when you use DOF on the camera, it will blur EVERYTHING. Now, there is a way around this, and I show you that method in the video.
(NOTE: I made a small mistake in the video, and actually used the correct DOF enabled version when showcasing what a normal non-DOF enabled map looks like, but the solution is the same)
Impressive Special DOF enabled versions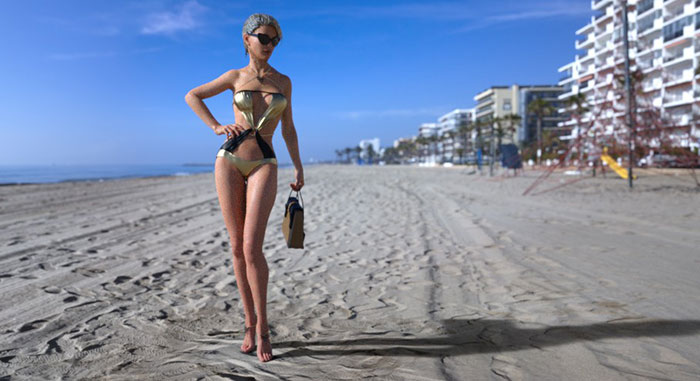 By using the package's DOF enabled HDRI maps, you can actually add camera DOF and it will look like it's supposed to, sharp where the focus is and blurred only behind and in front of your target. That is very impressive, although it has a small disadvantage, which I also cover in the video, and show a way around.
Disappointing Mistake
Total unzipped file-size is close to 2.9 Gb of data, so it's a huge HDRI package. One thing I dislike about the presets though, is that they don't reset some of the settings and if you like me, like tweaking things, then you might want to hit "default" in the Iray render settings prior to actually loading the presets, since they do not "normalize" what needs to be set in order for the HDRI maps to look as intended. Unfortunately, this is a rather big drawback, since if you're not familiar with Iray in DAZ Studio, it can take a while to get the package to work.
Additional Power Icons
The package also includes additional icons for brightness, glow, dome rotations, shadow intensity and a quick DOF preset. Although all of these can be set relatively easily within the Iray render settings tab, I really appreciate these quick icons, since they make adjusting such a breeze.
All in all, I'm a big sucker of palm trees, the ocean, sand, and sun–so this gorgeous setting just screamed: "put me in the cart". So I did, and I highly recommend you get it too for outstanding renders "in the sand", at one of the world's most famous beaches. Super easy to use, renders quick and looks amazing.
Like the video and found it useful? Share with your friends and comment below. If you want to check out this amazing package at DAZ, click HERE.
-Val